Dissolution Rate Test Apparatus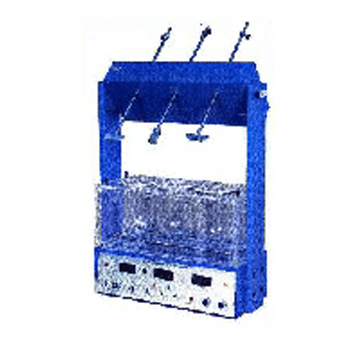 DISSOLUTION RATE TEST APPARATUS is designed to carry out test of tablet and capsule as per USP Standard.These tests are carried out by quality control and R&D department in pharmaceutical industry.DISSOLUTION RATE TEST APPARATUS Consists of constant temp.Water bath of transparent acrylic.The round bottom glass jar is placed inside the bath.The jar have acrylic lid which allow passing of stirring shaft.The shaft is suspended from the top & operator by the motor.The motor is electronically controlled to give speed precisely within =0.5oc.Additional feature of TEST APPARATUS is a digital pre-set Timer with audio alarm.The basket assemblies and stirring paddles are made from 316 grade stainless steel.
Speed : digital variable from 25 to 160 with accuracy of =1RPM
Temp : Digital 5oc.Above map.To 45.0oc accuracy -0.5oc
Timer : Microprocessor based preset timer 00.01 to 99.59hrs with alarm
Display :Digital 12mm Red Led For Temp.Speed,Time
Bath : Made up of 8mm thick clear acrylic 300w*200D*200mm H
Heater :350 Watts stainless steel .
Sensor : Pt-100 Sensor
Dimension : 300W*220D*780mm H
Accessories : $ Acrylic bath with Heater
$ Round Bottom Glass Jar with Lid -1.no.
$S.S 316 Paddle-1 no.
$S.S 316 Basket-1 no.