Spiral Conveyor Dryers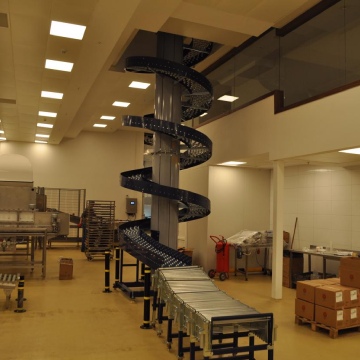 At Kerone, we are having more than 44 years experience in helping various types of industries with designing, manufacturing and installation of various types of custom build industrial spiral drying solution. New forge ahead in Spiral conveyor Dryer Technology Offers substantial productivity and easy operational benefits in a large number of industries.
Instead of the horizontal movement offered by traditional conveyor dryers, Spiral conveyors moves the components vertically. Spiral conveyors are perfect for moving minerals, powders, heavy goods, bottles, wrapped goods, unwrapped goods, etc.
New-Generation Spiral conveyors Dryers Manufactured by KERONE are based on large-scale load from end-user and promising technologies to serve you well. Spiral Conveyors from KERONE accentuate prominent reliability, quality, and ease of access for user. Spiral Conveyors Dryers made by KERONE are masterly skilled to last 3 long shifts per day and they require nominal maintenance
Features:
Decreases the loss of Sludge
Compact funding
Genuine Performance
Effortless operation
Safe and Robust
Applications:
Chemical Industry
Pharmaceutical Industry
Food Industries
Raw Material Industries
Related images