Dehumidifiers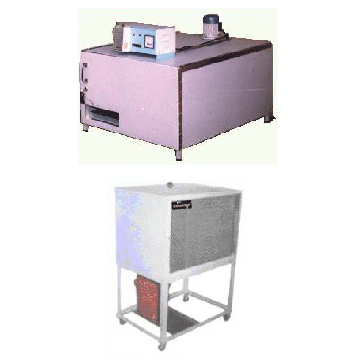 Dry air/low humidity environment is essential in varied application in research laboratories, seed storage facility, Pharamaceuticals industry industry in other Various industrial and specific research applications.
Our dehumidifiers are ideal to remove excess moisture from the Atmosphere of a given laboratory/work/storage facility.
Our dehumidifier are available in two capacities:1ton(to cover approx floor area of 100sq ft)and 1.5 ton (To cover approx area of 150sq ft). However to maintain better working conditions inside the laboratory in Which the dehumidifier is installed it is advisable to use an air-conditioner. Power supply: To work on 220volts,single phase,50hz Ac supply
Capacity:1.0 ton, 1.5 ton
Quality Freezer provides the ideal Freezing environment for advanced medical biotechnological and industrial applications. Uses include the preservation of plasma,Vaccines,microorganism and the testing of materials and electronic components.
Special Features.
Temperature Ambient to -35.0oC
Control Micro-controller based
Display RED bright Led
Power Supply 230V AC
Cabinet Construction and Refrigeration system:
Poly urethane from insulated cabinet with corrosion resistant stainless steel interior white power coated exterior finish keyed door lock for improved security with magnetic door gasket,Open stainless steel bars,Air-cooled, hermetically sealed compressor.
Special Features:
Door mounted indicator cum Micro controller, controls the internal temperature . Formed in place PUF insulation ensures temperature stability and reduces energy consumption. . Stainless steel heavy duty basket ensure even temperature distribution . Audio visual alarm when the temperature deviates from the pre set temperature