Hot Air Generator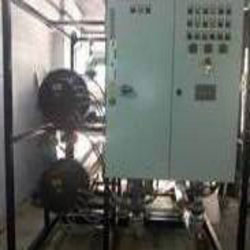 kerone offers a range of Hot Water Generator for various applications and usages. We are manufacture of goods on vast scale by machinery Hot Water Generators for a variety of fuels including solid fuels. Heat exchangers are available in Several ranges such as Condensers, Vent Condensers, Re-boilers and Sub-coolers depending upon process demand. It also can be customized according to the customers specification and can be used in vast number of applications.
A fully automatic multi pass counter current Hot Air Generator consist of stainless steel shell type integral combustion chamber accommodated in multi M.S. shell. The cold air is inserted by a suitable capacity blower fan in first pass, absorbs heat from flue gas passage and accordingly both hot flue gas and cold air travel in opposite direction in the passage which ultimately transfers 90% heat to cold air and delivers hot air from hot air outlet hole. The system functions fully automatic on temperature sensing device installed at hot air outlet which ON-OFF the burner at pre-set temperature. the system is a package type unit, fixed on common base frame.
Application
This equipment is suitable for supplying dry air which keeps the power equipment's inner parts from moisture in the maintenance of transformer, reactor and other big power facilities. Maintenance staff will not be short of oxygen working inside the equipment. It is more reliable, economic, convenient and safer than nitrogen.
Therefore, it can cut down maintenance period and increase the efficiency of maintenance quality!
Item
Parameter
Model Unit
Technical Parameter
Flow
M3/h
50
100
150
200
Working Pressure
Mpa
0.6~0.8
Pressure Drop
Mpa
0.05
Noise
dB(A)
70
Working Power
KW
380V-50Hz 3 Phase 4 Wire
Total Power
KW
12
19
22
26
Size
Length
cm
215
215
230
230
Width
cm
155
155
165
165
Height
cm
230
230
230
230
Diameter
DN
32
40
50
50
Weight
Kg
900
980
1030
1050
After Treatment Index
Discharge Pressure
Mpa
0.02~0.03
Dew Point
°C
-50°C ~ -70°C
Particle
um
0.01
Oil content in air outlet
ppm
0.01
Related images