Auto Kari Fishcer Titration Apparatus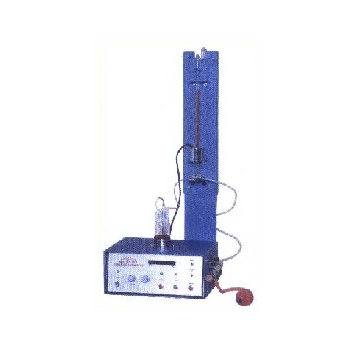 AUTO KARL FISHCER TITRATION APPARATUS is used for accurate determination of moisture in various samples.The instrument is housed in a mild steel cabinet duly powder coated with built magnetic stirrer & attached titration
Stand.Controls mounted on the front panel for easy operation.DBK Karl Fischer Titrator Finds use in chemical,pharmaceutical,food ,cosmetics,oil& many other industries inQ.C and R & D laboratories.
Type : Auto zero burette,Capacity 10ml with glass valve.
Resolution : 0.05ml
Accuracy : 10 PRM - 25gms of sample
Resolution : Amber color reservoir,250ml for longer stability.Facility to transfer reagent from burette back to reservoir.
Electrode : Twin Platinum Electrode.
Vessel : Specially designed moisture tight reaction vessel. Small quantity samples can be titrated
Stirrer : Motorized Teflon Coated Magnetic Stirrer. Solenoid: Special DBK Design.No tedious solenoid valve setting.
Display : 10 segments, LED bar display to indicate level of titration.
End Point : Audio & Visual alarm.
Time : Display 10 adjustable.
Dimension : 8Kg approx to be arrange by user.