Gas IR Heating Systems For Perheating and Post Heating Of Seam Welds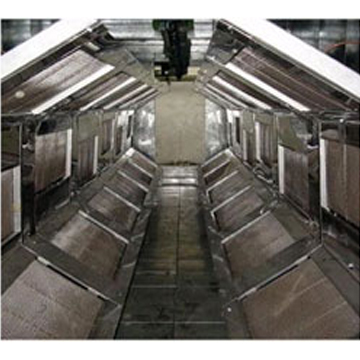 At KERONE, we design/manufacture a wide variety of continuous process ovens. Designs include flat conveyor belt style, chain conveyors, Ferris wheel, carousel, overhead trolley, serpentine, chain-on-edge, spindle, slat type, strip cure, print plate, pusher ovens, dog beams, wash-draw furnaces, as well as specialized custom conveyor ovens (Horizontal/vertical).
Every oven is designed only after by carefully studying the client's specific process requirement to develop the heating system that will best fit for the application requirement. We also hold our expertise in designing of conveyorised gas infrared (IR) ovens that uses the efficient gas firing system designed cautiously by the KERONE. The conveyorised gas fired infrared (IR) ovens are manufactured after scrutinizing the speed, heating and cooling zone requirements. Conveyorised gas fired infrared (IR) ovens manufactured are having heating zone control and conveyor speed control mechanism.
Related images