Gas Fired Hot Water Generators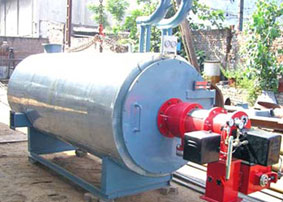 We offer Gas Fired Hot Air Generators that are widely used in high temperature applications. The compact design of the product saves a lot of space as it rugged construction ensures high performance for longer period of time.
Features
Robust Construction
Durable
Easy Operation
Fully Automatic Burner Control And Temperature Control Systems
Require Minimal Maintenance
Ensure Extreme Level Of Safety In Operation
Available With Optional Recirculation System To Enhance Overall Thermal Efficiency
Gas Fired Hot Water Generator is a very compact fully automatic packaged hot water generator in ready to install condition and can be installed where ever space is available. It does not require any special room like boiler house. It falls outside the purview of Indian Boiler Regulations. WATERTHERM is a safer and economical system which delivers hot water much faster than any other conventional system. It's most ideal usage includes HOTELS, HOSPITALS, RESIDENTIAL COMPLEX, LAUNDRY, DAIRY INDUSTRIES, etc. where continuous hot water supply is essentially required. WATERTHERM system is available in wide range of heat output from 70,000 kcals/hr. to 10,00,000 kcal/hr., to give output of 1250 ltrs/hr. to 18,200 ltrs/hr. of hot water at about 65c temperature.
A New Perception In Quality
Small Capacity Models Wt-30 & Wt-50 Are Sleek, Compact And Instant Hot Water Generator Exclusively Designed For Hotels, Resorts, Dairies & Hospitals.
Benefits
Fully Automatic
No Extra Man Power Is Required.
No Extra Man Power Is Required.
Single Button Start / Stop With Automatic Controls.
Easy To Operate.
Economical
Low Installation Cost.
Minimum Space Required.
No Water Treatment Required With Calorifier.
High Operational Savings Of Over 50 % Against Electrical Heating.
Low Maintenance Cost
Front Door Access For Cleaning And Inspecting Flue Gas Port Without Removing The Burner.
Exempted From Indian Boiler Regulation Act.
Eco Friendly A Space Saver
Smokeless Emission
Less Floor Space Required
Highly Compact
Noise Less Operation
Can Be Installed On Terrace, Basement Or Anywhere
Technical Features
Enhanced Engineering Design With Optimum Technology.
Optimum Heat Transfer Hence High Efficiency Of 90 %.
Elegant Control Panel With High End Safety Features.
Quality Assured Manufacturing.
Anti Drip Imported Burner Hence High Combustion Rate.
Precision Wound Coil.
Continuous Supply Of Hot Water Upto 90°c, Round The Clock.
Enhanced Safety With Burner Cut-off For Flame Failure, High Water Temperature, High Stack Temperature & No Water Conditions.
Technical Specification
Applications
Hotels / Resorts
Dairy
Garments / Laundry
Swimming Pools
Guar Gum Industry
Electroplating
Steel Plants